Boss brass/woodwind tuner TU-12BW Special Price
With its sleek and portable profile, the silver and white TU-12BW fits easily into any case or gig-bag accessory pocket. On the left side of the front panel is the classic and ultra-accurate BOSS tuning display, with a VU-style tuning needle that tracks even the subtlest variations in pitch. Additionally, two arrow indicator lights show you when you're sharp, flat, or spot on.
The built-in mic on the edge of the unit lets you tune acoustically, while the side INPUT jack gives you some electrified options. First and foremost, this jack is where you plug in the clip-on mic that comes with TU-12BW. The mic clips directly onto the bell or body of your instrument, providing the tuner a strong, direct signal that makes tuning painless, even in the noisiest environments. Alternately, the INPUT jack provides a direct connection for an electronic wind controller or an acoustic instrument that's already equipped with a pickup or mic.
For power, the TU-12BW runs on two AAA batteries, or via AC by way of an optional PSA-120S AC adaptor. There's also a practical auto-power-off feature, which automatically turns the tuner off after a short time and saves your batteries if you forget to switch off the power. Finally, a soft carrying case is included, along with a cool holder that allows you to conveniently mount the tuner on a music stand. The holder also provides a place to store the clip-on mic, so it's always ready when you need it.
Extended-Range Tuning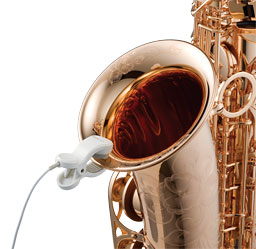 The TU-12EX has an extremely wide 8-1/2 octave tuning range (E0-C8) that's suitable for tuning any brass or wind instrument. This wide range is also beneficial when using the tuner as an aid while practicing scales. The tuner's reference pitch defaults to the A440 Hz standard, but it can be calibrated anywhere from 438-445 Hz, an essential feature when performing with orchestras and other ensembles.
Tuning Modes
Two different modes of tuning are provided with the TU-12BW: Auto Chromatic and Manual. Auto Chromatic is best for quick tuning, because any pitch you play into the tuner is sensed automatically and displayed with the pitch indicator lights. In Manual mode, you can specify a particular pitch that you wish to tune to. In either mode, the Accu-Pitch feature sounds an audible beep when you nail the right pitch.A dedicated front-panel button lets you set the TU-12BW to Quick Response mode, which kicks in a quicker needle response that tracks the slightest pitch variations lightning-fast. This is extremely useful for monitoring your accuracy during intonation-related practice, such as nailing pitches when playing fast notes and holding pitches steady while playing long tones.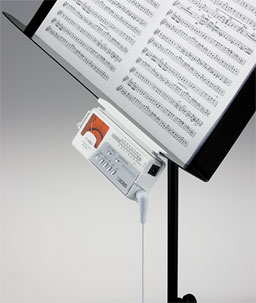 The TU-12BW also allows you to play reference pitches from its built-in speaker. You can play any pitch in half-step increments over a range of five full octaves (C2-C7). This is great for providing a tuning reference for a section or ensemble. Additionally, when you're using the clip-on mic, playing a reference pitch gives you an audible comparison tone for practicing long tones.
That's a Wrap
With its unique feature set specially suited to brass and wind players, the TU-12BW provides these instrumentalists a device that's not only a dead-accurate chromatic tuner, but a helpful practice tool as well. Pop on down to your local BOSS dealer and check one out—after a quick once-over, I'm sure it'll be accompanying you to your next gig or practice session.
---
We Also Recommend