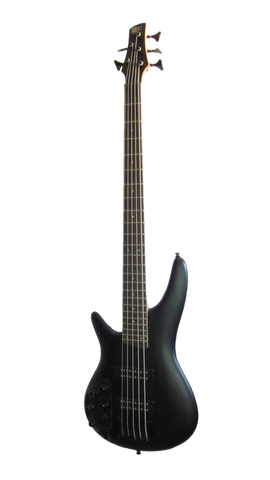 Electric bass guitar Ibanez 5 string left-handed SR305EBL-WK
Electric bass guitar Ibanez 5 string left-handed SR305EBL-WK.
For 30 years the SR has given bass players a modern alternative. With its continued popularity, Ibanez is constantly endeavoring to answer the wider needs of a variety of players, at a variety of budgets. But no matter what the specs, the heart is the same-SR continues to excite with its smooth, fast neck, lightweight body, and perfectly matched electronics.
5pc Maple/Rosewood neck
The SR neck is famous for its slim easy-to-play profile. The 5pc Maple/Rosewood construction provides excellent strength and stability while enhancing sustain.
PowerSpan Dual Coil pickups
Developed by Ibanez, the exposed pole pieces of the PowerSpan Dual Coil pickups produce a stronger signal, and increase the response of the higher frequencies without sacrificing low end. The result is a tone rich in harmonic detail and dynamic expression.
Ibanez Custom Electronics 3-band EQ w/3-way Power Tap switch
The 3-band EQ works in conjunction with a coil tap switch for maximum control over a wide variety of professional bass tones. Tap Mode (single coil) creates a punchy, dynamic sound with superior articulation. Series Mode (humbucking) delivers a full, warm tone, and Power Tap Mode provides the best of both worlds-combining the clarity of the single coil with the fat bottom end of the humbucker.
---
We Also Recommend