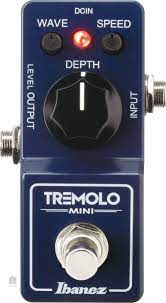 Ibanez Tremelo pedal-TRMINI
IBANEZ TRMINI DETAILS
The Ibanez TRMINI Tremolo Mini packs a neptune cocktail of lush, quivering waves into a compact, pedalboard-ready stompbox.
Enjoy classic tremolo effects, with dedicated Wave, Depth, and Speed controls for precise effect tailoring. You also get a Level trim pot to ensure proper gain-staging for your rig. Built with 100% analog circuitry, the Tremolo Mini boasts true-bypass switching to safeguard against tonal coloration. If you're searching for a great-sounding tremolo effect for your crammed-to-the-gills pedalboard, the Japanese-built Ibanez Tremolo Mini is a logical choice.
The tremolo effect - a brief history
Many guitarists use a tremolo pedal, which essentially sounds like somebody is rapidly turning the volume of your guitar up and down. Tremolo first started being incorporated into American-style guitar amplifiers in the 1950s. The Ibanez Tremolo Mini replicates this classic effect, which really came into its own in the 1960s, where it proved extremely popular with surf musicians. A timeless classic, the tremolo effect has continued to be utilized by modern artists including (but not limited to) R.E.M., The Black Keys, and Radiohead.
Features:
Tremolo guitar effect in a compact, pedalboard-friendly stompbox
Wave control alters the waveform LFO of the tremolo effect
Depth control determines the strength of the effect
Speed control ranges from subtle quivering to all-out manic pulsating
Level trim pot ensures proper gain-staging for your rig
100% analog circuitry with zero digital conversion
True-bypass switching safeguards against tonal coloration
Made in Japan
Specs:
Pedal Type: Tremolo
Analog/Digital: Analog
Inputs: 1 x 1/4"
Outputs: 1 x 1/4"
True Bypass: Yes
Power Source: 9V DC power supply required (sold separately)
Height: 1.375"
Width: 1.625"
Depth: 3.5"
---
We Also Recommend