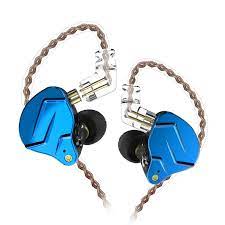 KZ SN Pro in ear earphones Blue
SECOND-GENERATION HYBRID EARPHONES
IMPROVE SOUND DETAIL PERFORMANCE!
Metal and resin combined, texture, and details to enhance again!
Aviation aluminum alloy combined with imported resin. With a bright sense of fashion color.
Second-generation hybrid technology show 
more sound details
It has a shocking low frequency of the dynamic unit and has a powerful high-frequency analysis of the balanced armature unit, which is more abundant and delicate.
10mm self-developed dynamic
#30095 Customized Balanced Armature
The balanced armature will compensate the sound that the dynamic can't show then the professional-grade sound quality is presented
The treble balanced armature unit has the high-frequency performance ability that the dynamic unit can never reach.
Diaphragm: Hinge with vibrating diaphragm support to ensure consistency of the frequency response curve.
Shell: Upper and lower closure structure, ensure that the unit is free from environmental and temperature interference.
Conduction rod: Arc discharge welding, guaranteed excellent high-frequency effect.
Energy exchange coil: The corrosion resistance of military-grade ensures the long life of the earphone.
Electric driver: After 46 times bending and shaping, it is light and firm, so that the high frequency extends over 40kHz.
Sound outlet: Provides better sound directivity.
Self-developed titanium film dynamic unit significantly improving high-frequency ductility performance
KZ ZSN brings a stronger driving force with a four-layer voice coil, the low frequency is powerful, the sound field width is extended, and the overall hearing is more appealing.
---
We Also Recommend