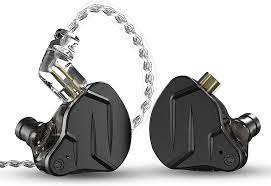 KZ SN PRO X in ears earphones black
1. Upgrade KZ ZSN PROX In-Ear Headphone: Upgrade version of KZ ZSN PRO earphone, soundstage and feelings are comprehensively improved, covering unit drivers, sound quality, cable material, and appearance.
2. 1BA 1DD Hifi Earbud Headphone: Combined with redefined 10mm dual magnetic dynamic driver and 30095 high-frequency balanced armature driver on this KZ ZSN PROX earphone, tuned by a professional acoustic team, the frequency response becomes wider and the human voice becomes richer and clearer.
3. Shining Metal and Resin Shell: The Unique sparkle of the Zinc Alloy metal is combined with resin, fashion and durable. The curved cavity follows the ergonomic design concept and fits the ear tightly and comfortably. With the elastic memory PU tube around the ear, it can be more firmly and freely.
4. Detachable C PIN 3.5mm Jack Earphone Cable: Detachable features provides more ways of combining with this KZ ZSN PROX earphone at your different needs. 4 strands of 100 wires silver plated copper cable can effectively enhance the resolution of the details, and the loss and distortion in signal transmission are reduced. The all-in-one control button is compatible with most of the cellphone, do not support Volume Control.
Specifications:
Model: KZ ZSN Pro X
Weight: 27g
Sensitivity: 112dB
Frequency: 7-40000Hz
Plug type: 3.5mm Aux
---
We Also Recommend