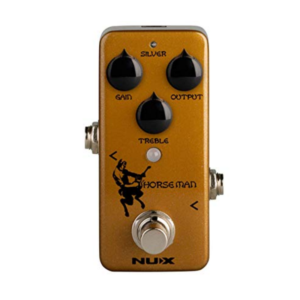 Nux mini core Horseman overdrive pedal-CHNOD1
Nux mini core Horseman overdrive pedal-CHNOD1.
The Klon Centaur Overdrive pedal was one of the most sought after Overdrive Pedals in the '90s. It was a transparent overdrive know for it's transparent tone, adding gain to the signal without altering the tone output.
With the Horseman 2 in 1 Overdrive, there would no longer be the need to spend a lot nor to have to search for the limited Klon Centaur. It features 2 modes: Gold and Silver. The Gold Mode mimics the transparent tone which is predecessor is known for and the Silver Mode for powered version with an extended gain range.
The circuitry of the Horseman will allow you to get more harmonics in your tone and acting either as a boost to your clean tone or to give you that natural distorted tone. The Gain Knob also acts as a double potentiometer which controls the bass and middle frequencies
The Horseman also has an optional bypass mode. You can choose between True Bypass to keep your signal untouched when the pedal is off or Buffer Bypass to have no signal loss specially if you are using more than 4 pedals.
---
We Also Recommend