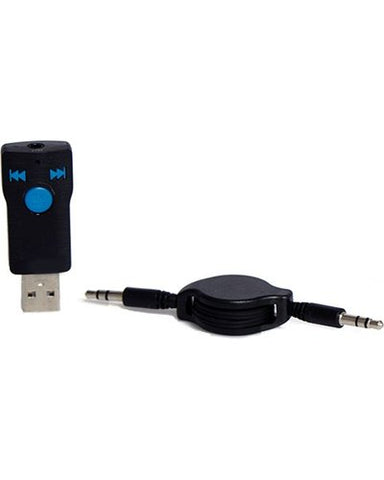 Ultralink smart bluetooth USB receiver- UL-BT-01
This Ultra-Link USB Bluetooth audio receiver is the ideal audio solution for retro radios or stereo systems that do not have a built-in Bluetooth system.  You will now be able to stream audio wirelessly from your smart device to your stereo system via Bluetooth connection. Your stereo system has to have a USB port for this USB Bluetooth audio receiver to work.

Bluetooth Technology
This Ultra-Link USB Bluetooth audio receiver is super easy to use and connect. Once switched on and plugged into your stereo system, the devices instantly searches for other devices and will automatically sync with previously paired devices.  The Ultra-Link USB Bluetooth Receiver allows you to stream your music or audio wirelessly from your smartphone to your stereo system. You can now enjoy the clear quality sound with this USB Bluetooth receiver due to the built-in echo cancellation and noise suppression function.

Small Compact Design
It's small lightweight compact design easily blends in with your stereo system, the black finish of the device gives it a touch of elegance. The LED light indicates the device connection.

Supports additional audio connections
This USB Bluetooth music receiver supports additional audio outputs such as 3.5mm Aux jack and Micro SD Cards. You can connect to this USB Bluetooth receiver in three different ways.

Features:
- Bluetooth Receiver Allows You To Stream Audio Wirelessly From Your Device To Your Stereo System Via Bluetooth Sync
- USB Powered
- Supports Audio Output
- Built-In Micro Sd Port
- Supports Mp3 Format
- Supports Hands-Free Phone Connections
- Echo Cancellation And Noise Suppression Function
Bluetooth Technology
This Ultra-Link USB Bluetooth audio receiver is super easy to use and connect. Once switched on, the devices instantly searches for other devices and will automatically sync with previously paired devices.  The Ultra-Link USB Bluetooth Receiver allows you to stream your music or audio wirelessly from your smartphone to your car stereo. You can now enjoy the clear quality sound with this USB Bluetooth receiver due to the built-in echo cancellation and noise suppression function.
Hands-Free Phone Connection
With Ultra-Link, you can now focus on the road knowing your devices are connected via Bluetooth. Your safety is enhanced as everything is wireless, also you don't have to look at your device to skip, you can easily access the device and press on the skip button to go to the next or previous song.
Small Compact Design
It's small lightweight compact design easily blends in with your car's interior, the black finish of the device gives it a touch of elegance. The LED light indicates the device connection.
Supports additional audio connections
This USB Bluetooth music receiver supports additional audio outputs such as 3.5mm Aux jack and Micro SD Cards. You can connect to this USB Bluetooth receiver in three different ways.
Features:
Bluetooth Receiver Allows You To Stream Audio Wirelessly From Your Device To Your Stereo System Via Bluetooth Sync
USB Powered
Supports Audio Output
Built-In Micro Sd Port
Supports Mp3 Format
Supports Hands-Free Phone Connections
Echo Cancellation And Noise Suppression Function
---
We Also Recommend