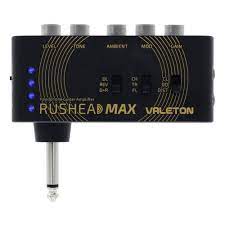 Valeton RH-100 pocket amplifier
Valeton Rushead Max USB Chargable Portable Pocket Guitar Bass Headphone Amp Carry-On Bedroom Plug-In Multi-Effects.
Rushead  Max is a straightforward, easy-to-use headphone amplifier for guitar.  Inside you'll find all the heat of the world's most famous amplifiers, each with a full range of gain adjustment. You get everything you need for a clean natural tone, toasty overdrive,  and even heavy metal!
Amps love effects,  and  Rushead  Max also hooks you up with multi-mode,  switchable modulation, delay and reverb effect modules to give your performance that  A-list tone.  A specially designed lithium battery is for powering the amp and bringing you over five hours of continuous use charged by USB.  An  AUX  IN  jack bestows upon you the ability to jam on your favourite tracks.
---
We Also Recommend